The new BMW R 18 B and R 18 Transcontinental are now available. Carrying power, Big Boxer, 2-cylinder, size 1,802 cc.
The new BMW R 18 B and R 18 Transcontinental evolved into luxury touring bikes. The R 18 B emphasizes the full-body backpacker style with a simple and dynamic look. along with the side luggage of the car to match the headlamp cover, while the R 18 Transcontinental Comes with a luggage box in the back of the car (Top case).
BMW R 18 and R 18B
Both models were developed with a double steel structure. With the main axis, the parts are formed from steel plates. Install a 24 liter drop-shaped oil tank with a dual-line paint feature. It is complemented by a double flanked swingarm system and cantilever support beams that can be adjusted for viscosity and spring compression. The rear swingarm is also attached to the rear axle with a traditional bolt joint. including using both telescopic suspension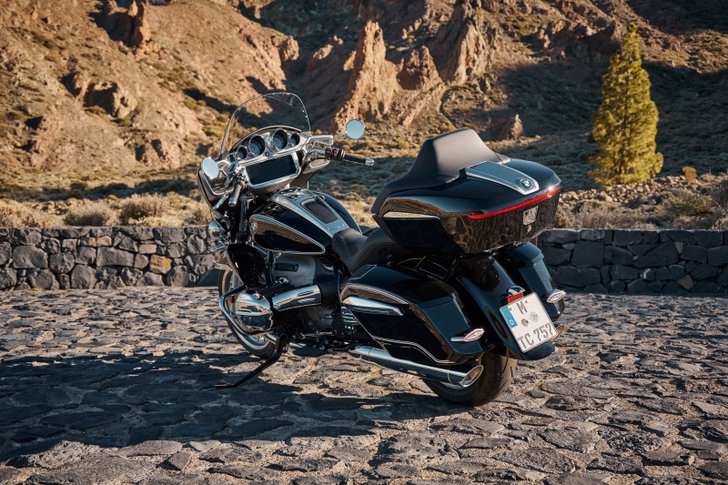 In addition, both models use dual disc brakes on the front wheels. and single disc brakes on the rear wheels It works with 4-piston fixed brake calipers and BMW Motorrad's ABS brakes. It is also equipped with an electronic drive control system DCC (Dynamic Cruise Control) that controls the speed of automatic driving that the driver can set. and the Active Cruise Control (ACC) system automatically maintains a distance from the vehicle in front. through the radar installed in the car's headlight cover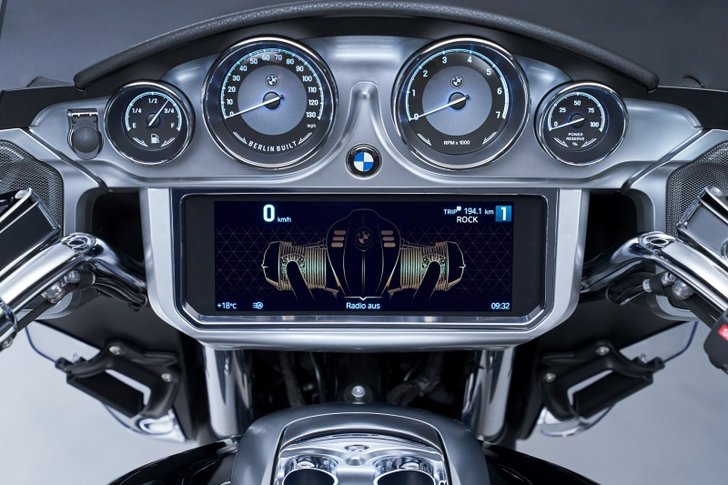 BMW R 18 B and R 18 Transcontinental was also equipped with an analog meter The four round instrument clusters and a 10.25-inch color TFT display are decorated with "BERLIN BUILT" lettering, smartphone connectivity via the BMW Connected App. Two speakers and two subwoofers, while the R 18 Transcontinental is a Marshall Gold Series Stage 2 with four speakers and two subwoofers, delivering a total power of 280 watts.
The power of the BMW R 18 B and R 18 Transcontinental. It is a 2-cylinder boxer engine (Big Boxer) with a size of 1,802 cc, giving a maximum power of 91 horsepower at 4,750 rpm, a maximum torque of 150 Newton-meters at 2,000 – 4,000 rpm, can adjust the driving mode. 3 modes: Rain, Roll and Rock, with reverse gear for easy turning.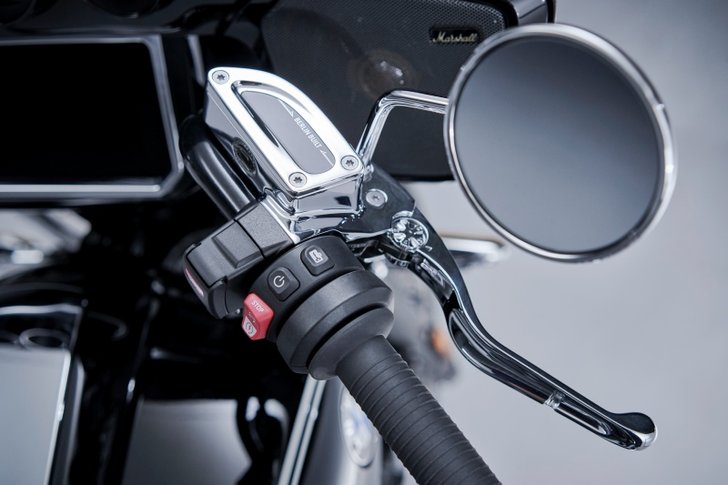 The BMW R 18 B and R 18 Transcontinental It will be available in the First Edition, which is specially decorated with a black car with contrasting white lines. Decorated with the First Edition symbol on the seat Customers who purchase the First Edition will also receive a special Welcome Box.